If only we had a crystal ball to know what the future holds for the real estate market…

The housing market has certainly cooled down a bit with the rise in interest rates, that is giving buyers pause. There are a wide range of opinions coming from the experts on what the real estate market has in store, from falling home prices to ongoing appreciation, with supply and demand currently being the key factor that is driving the real estate markets, regardless of all the other moving parts going on in our world. What will be is yet to be seen, however, here is some perspective …

MORTGAGE RATE 
We've all witnessed the rise in mortgage rates and its impact on the cost of buying and selling a home. Homebuyers have had to revise their expectations as to what they can afford. Sellers, on the other hand have had to adjust their own expectations regarding pricing their homes. 

Key takeaway: Pay close attention to mortgage rates, and when you see a period of lower rates … that's the time buyers should lock in their rate if they are ready, willing and able.

Home sales are trending below 2019, just before the COVID pandemic. And while inventory has gone up, it is still not enough to sustain buyer demand.

With/due to the lack of inventory, combined with higher housing costs and higher mortgage rates, we are likely to see a continued decline in home sales.


HOUSING MARKET FORECAST
Dr. Lawrence Yun's, forecast for the remainder of 2022 is the following … "We will see sales come down slightly below 2019 market. And then 2023 will be roughly even. I think on a quarterly basis we will continue to see sales decline through the third and fourth quarter. And the first quarter of next year, it will begin to increase" – Dr. Lawrence Yun NAR Chief Economist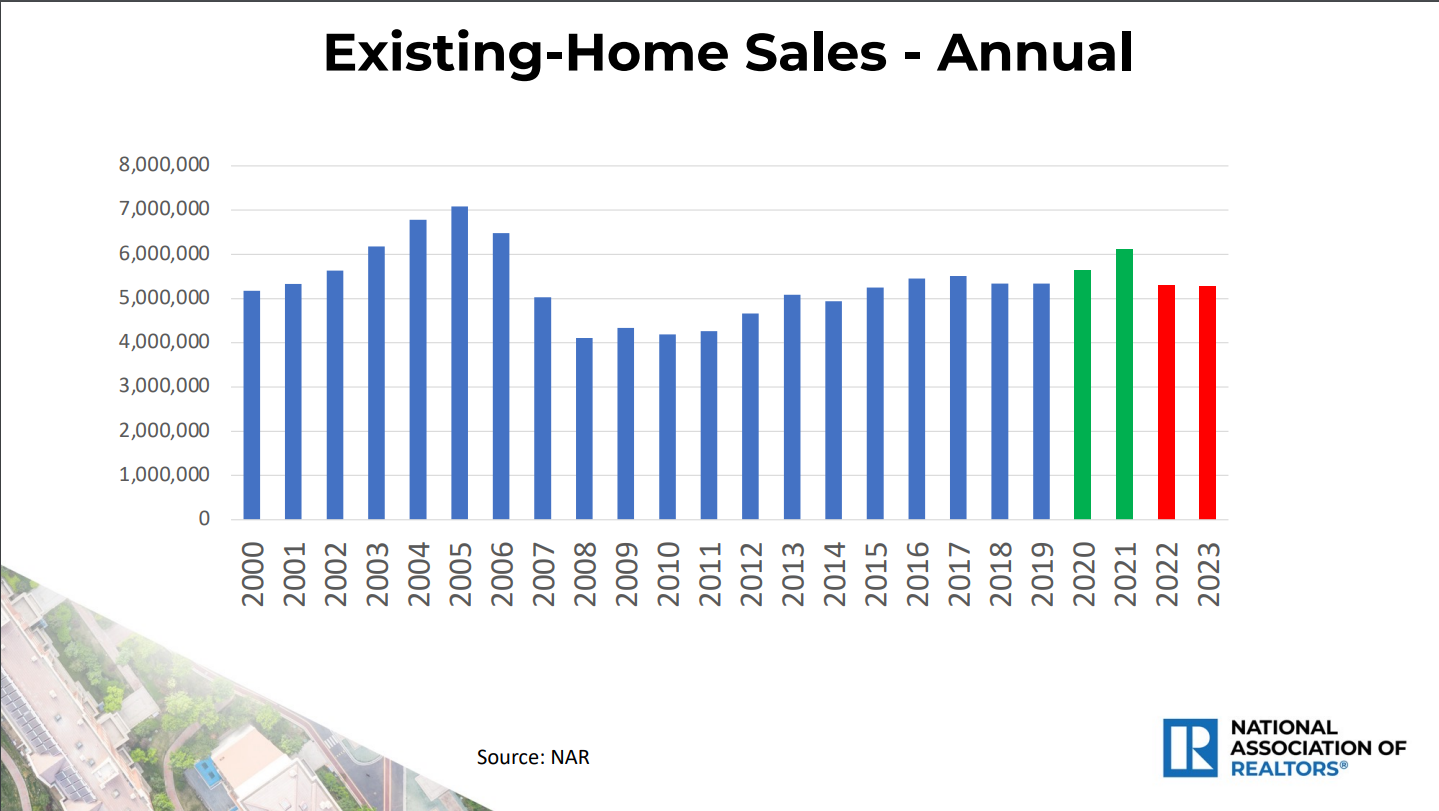 Dr. Lawrence Yun, Chief Economist for the National Association of Realtors projections for the rest of 2022 and the year to come are outlined in the chart below. This offers a quick overview of Dr. Yun's expectations for the rest of 2022 and for the year to come.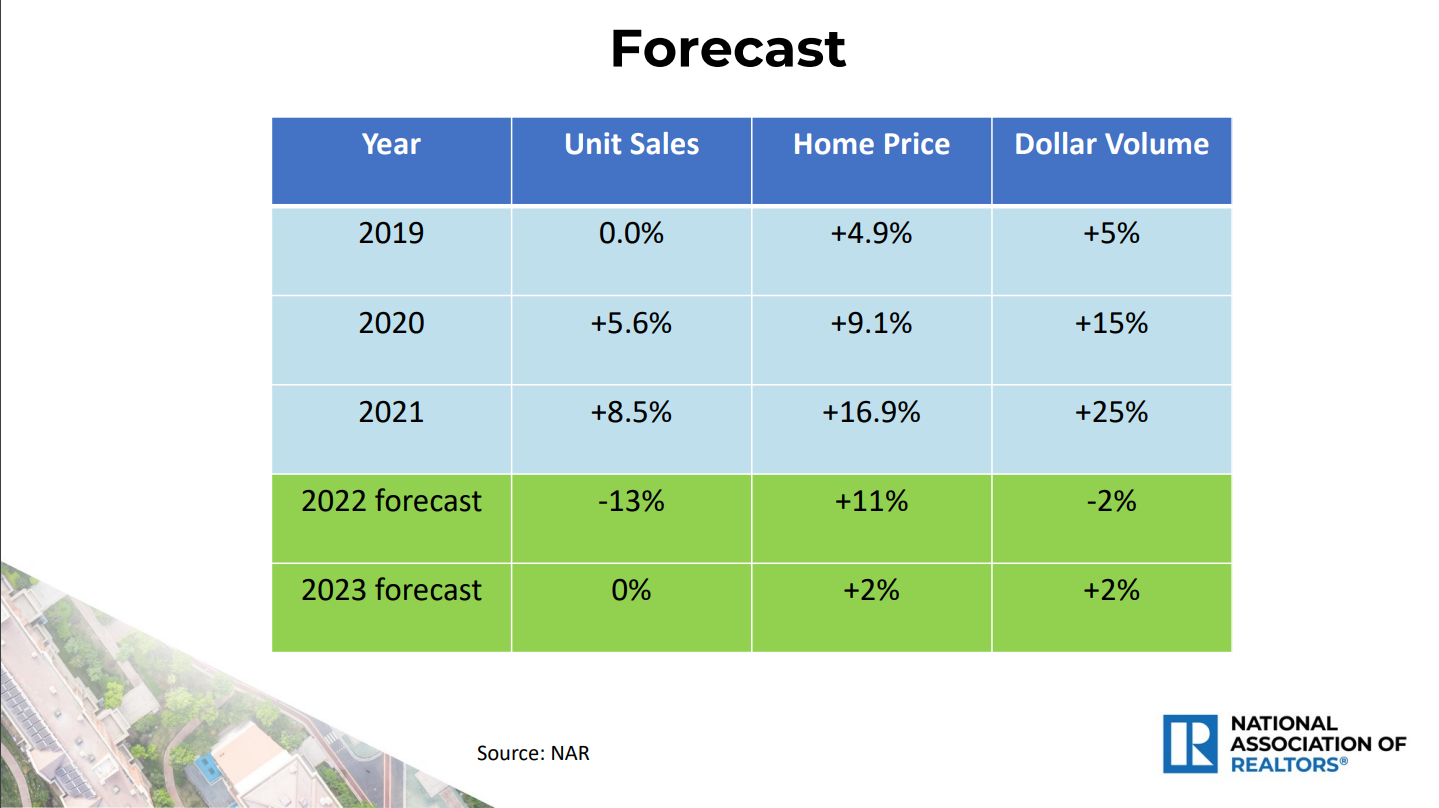 Key takeaway: Home prices will continue to rise but at a slower pace. Unit sales will level off in 2023 after a 13% decline for 2022. And dollar volume for residential home sales—down 2% for 2022—will surge by 2% in 2023.

Lastly, and as outlined in the chart below, the key thing to keep in mind is the solid buffer between housing asset valuation and mortgage debt, which argues strongly in favor of buying a home. This buffer is one of the key reasons why real estate is still the best long-term investment.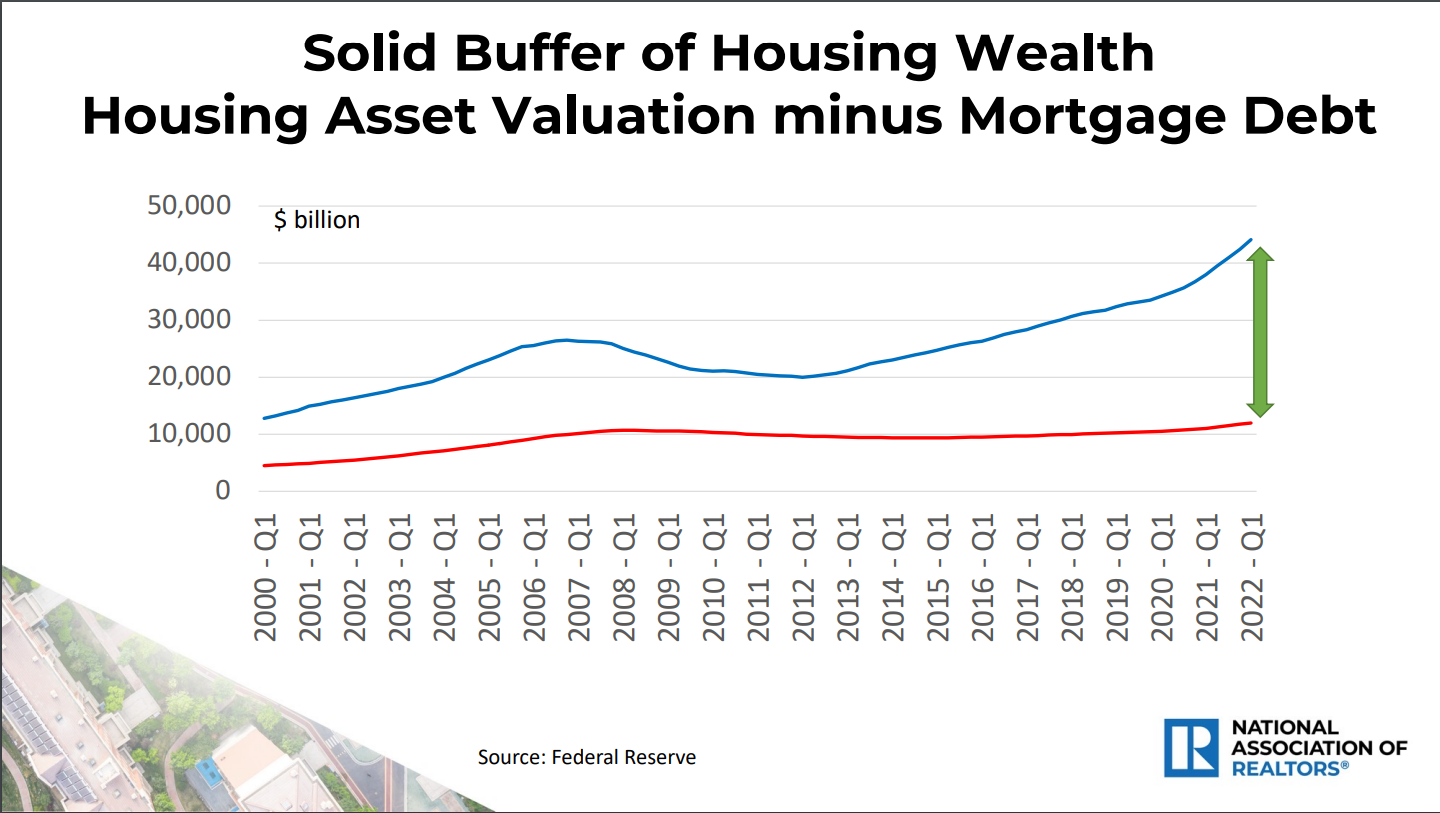 It's important to note that there are many determining factors that come into play as to why sellers, sell and buyers, buy. It is based upon those needs most often that will be "their" determining factor on whether to make the move or not – not the market. 

Clients, friends and family ask me "how's the market?" My answer usually is – "a bit challenging," for some reasons I've outlined above in this case. But what market isn't challenging? Even during the 2020/2021 market, there were challenges for both buyers and sellers. You as a buyer and/or seller just need to be informed of the challenges and know how to navigate through it. Speaking to a trusted real estate advisor, a trusted mortgage representative and perhaps a financial advisor to get the information you need to make good sound educated decisions is the best place to start. Don't let the market determine what your future holds for you … learn the facts and take control of what your next move should be. 

Laura

The Key To Your Real Estate Success

Helping buyers & sellers achieve their real estate goals